A version of this post originally appeared at Mobility Lab.
One of the key strengths of bikeshare is how it effectively expands the transportation network for its users. It unlocks new travel options that might not otherwise be possible, even for people with their own bikes. Now that Modeify supports bikeshare as an option, we can begin to see this impact more clearly than ever.
Here are some examples of what I mean from CarFreeAtoZ, the Modeify-based trip planner in the Washington DC area:
Say you commute by Metro into Rosslyn every day. It's not possible to take your bike into the office on the train, so if you have any midday errands, you're reliant on the options available in the immediate area. Without bikeshare as an option (and assuming you don't have access to a car), you're limited to transit and walking.
Let's say you also have errands to run just across the Key Bridge in Georgetown; we'll use the intersection of Wisconsin and P Street for this example. Here are CarFreeAtoZ's recommended options using walking and transit: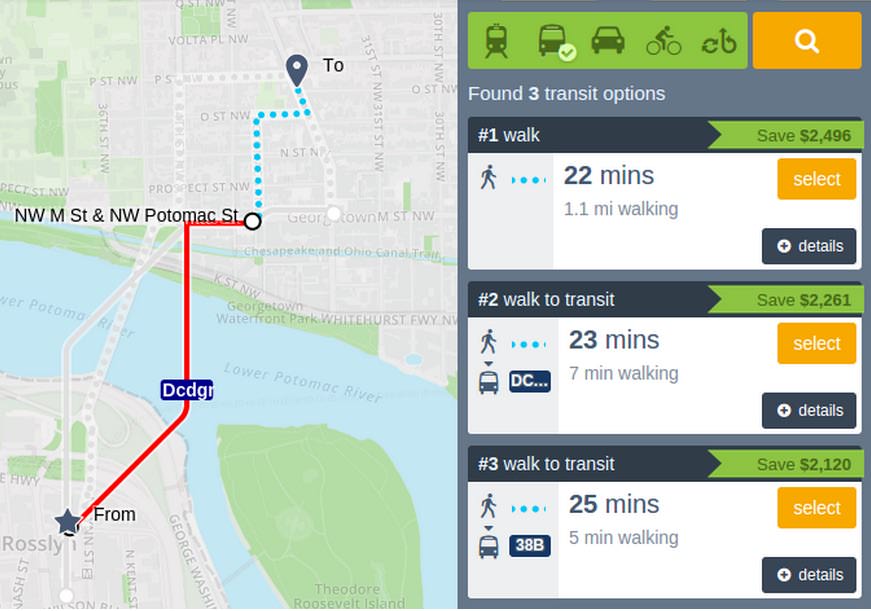 Taking transit is an option – by using either the DC Circulator or the 38B bus – but those only get you part of the way there (note the roughly five-block walk at the end of the trip). In fact, when the typical wait time for the bus is also taken into account, CarFreeAtoZ finds that it's just as fast to walk the entire way (slightly more than 20 minutes on average in either case).
Now let's enable Capital Bikeshare. As it happens, there are CaBi stations within an easy one-block walk of both the origin and destination. This opens up an attractive new option for this particular trip: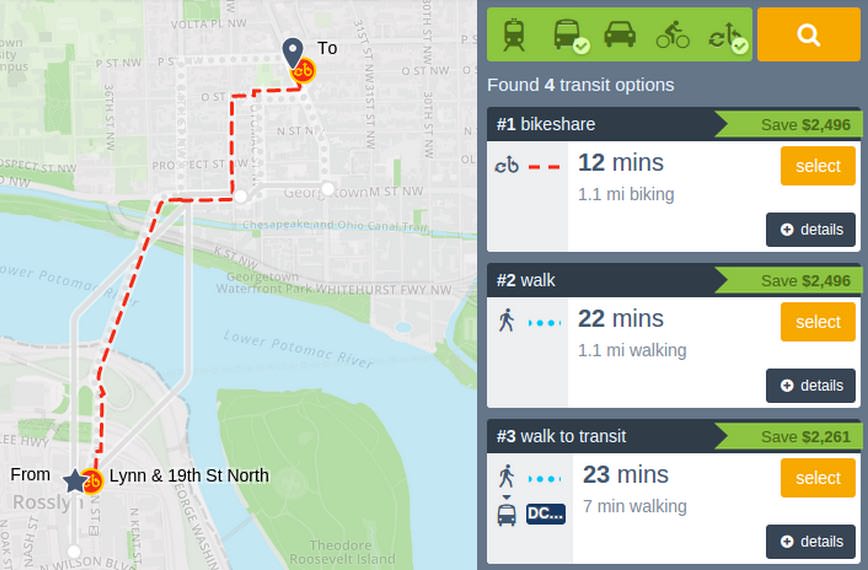 With Capital Bikeshare available as an option, you can cut the trip time roughly in half and you won't eat up a portion of your workday just attempting to get your errands accomplished. It could also be said that you'll feel more refreshed when you arrive back at the office to finish up more work for the day.
We've seen how bikeshare can be a great replacement for a trip that would otherwise require both walking and transit, especially shorter trips as in the above example. It also has an important role to play as a "last-mile" connection for longer trips.
Say you work or live in Downtown D.C. and need to make a trip to Arlington, but in an area of the county not directly served by Metrorail or the higher-frequency bus corridors. Let's use the Arlington Heights neighborhood just south of Clarendon as an example: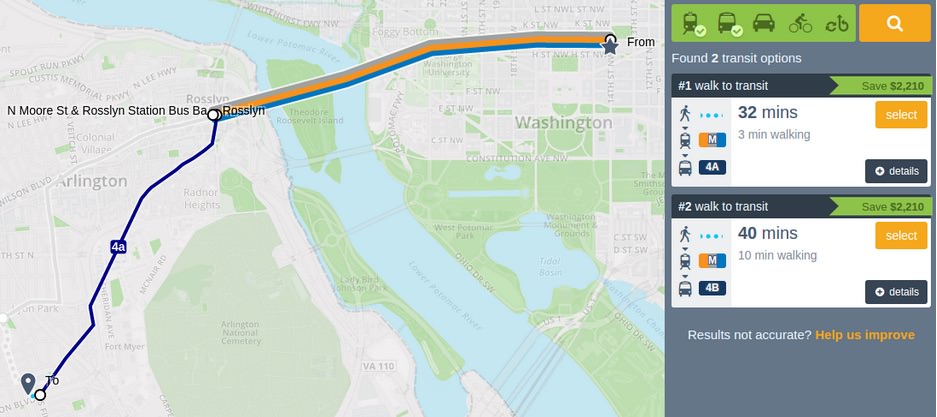 Without bikeshare enabled, CarFreeAtoZ finds that the best option is to take Metrorail to Rosslyn and transfer to the 4B bus. All told, this trip involves two transit legs, a short walk at each end, and takes just over half an hour on average.
Biking could be an attractive alternative to the bus transfer in the above trip, but even if you have your own bike, that may not be an option since bikes aren't allowed on Metro during peak travel times. This is where an option like Capital Bikeshare can be particularly helpful. Let's look at the same trip with bikeshare enabled: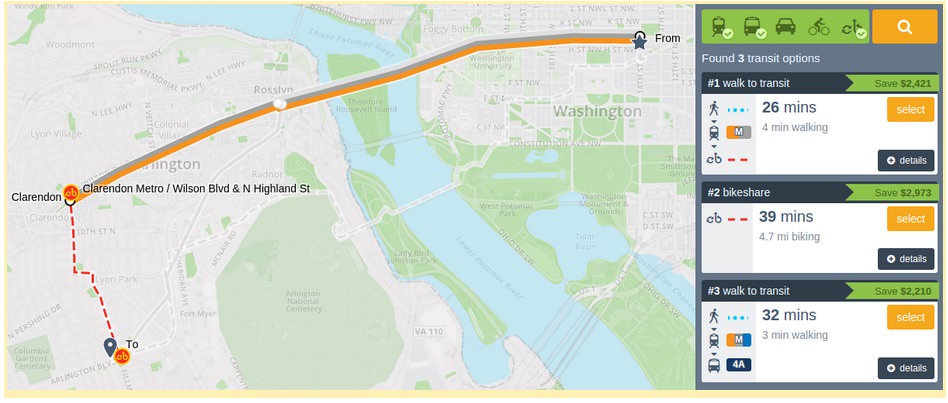 The frequent coverage of CaBi stations in Arlington means that it is a viable option for the "last mile" of this trip. And even though you're riding further on the train, this option actually saves about 5 minutes off the transit-only option, and also eliminates the wait time and potential for a missed connection associated with a rail-to-bus transfer.
With Capital Bikeshare now fully integrated into the CarFreeAtoZ application, travelers in the Washington region have a new way to understand and appreciate its impact.