A version of this post originally appeared at Mobility Lab.
CarFreeAtoZ is a Modeify-based personalized trip-planning and comparison tool that Arlington County, Virginia beta-launched this fall as part of its Transit Tech Initiative.
Now, beta testing is wrapping up and feedback is being incorporated. Here are some of the top priorities identified:
Making It Easier and Better to Use
CarFreeAtoZ is designed for commuters to easily view and compare their specific travel options. However, how does a user indicate interest in a specific option and give the trip a try?
To address that question, a "Select" option button has been added to each suggested trip, allowing the user to click through to a detailed display for any option.
The display shows details on the selected option's benefits, costs, and next steps for taking the trip. There are also links to more specialized online resources. For instance, the site might take you to BikeArlington to access detailed bike maps and information, or CommuterDirect to buy passes for a transit trip.
Early adopters have also expressed a desire for a more detailed comparison view of the options side-by-side. So a "Help Me Choose" display (see below) is being developed that will present all options sortable by comparisons like travel time, cost, health benefits, environmental concerns, and work-productivity levels.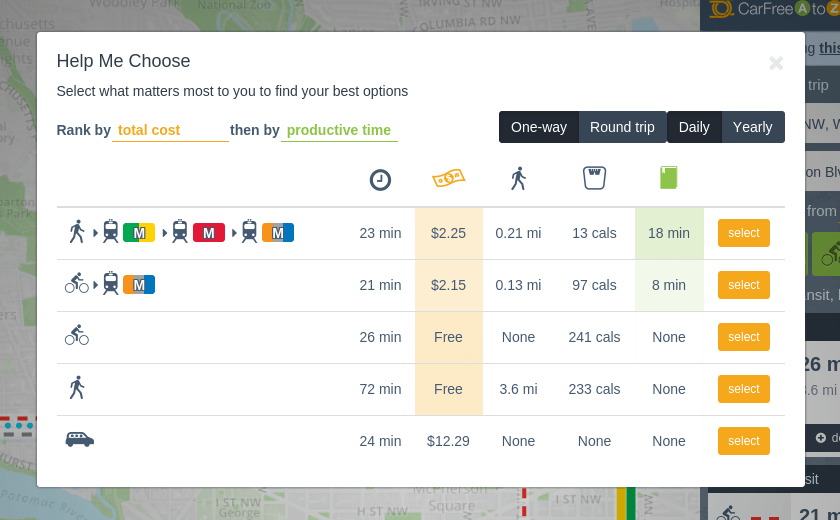 Providing More Traveling Options
CarFreeAtoZ currently allows for planning trips that combine public transit, walking, biking, and driving. Those modes will continue to be the primary focus, but there are more options that can be shown for them, such as information from additional third-party transportation providers.
Area carpool and vanpool ride-matching services will have enhanced display options, including specific potential matches for a given trip. Users will be alerted when matches are found and will have the option to proceed to the provider's sign-up page.
For those interested in additional biking options, Capital Bikeshare, a frequently requested system in our beta feedback, will be included with specific departure and arrival stations and any walking segments necessary to access the stations. CaBi is also well-suited as a "last-mile" option for transit trips, which can greatly expand the reach of the transit system, and is crucial for enhanced travel planning.
"Commute Challenge" for Workplaces
CarFreeAtoZ has the potential to enhance workplace-based transportation plans for employers and their employees. So a "Commute Challenge" tool will be developed as part of the site to allow employers to launch incentive-based campaigns intended to get their workers out of their cars. A database will be provided to identify specific, personalized opportunities for each employee. For instance, they will learn about potential carpools based on home locations of fellow employees.
A campaign might run for 30 days, with employees competing against each other to see who can log the most trips on various modes, all compiled on a leaderboard within CarFreeAtoZ's website. The challenge tool will hopefully launch its first pilot in one Arlington workplace in the spring.
These are just a sampling of some of the updates coming from CarFreeAtoZ this year. Be sure to check out the current application and take the online survey to let us know your thoughts!