A version of this post originally appeared at Mobility Lab.
For over a year now, Conveyal has been working with Arlington County, Va. to build Modeify, the next generation of transportation demand management (TDM) outreach software. This month, Arlington is beta launching CarFreeAtoZ, the first public deployment of that platform.
What is CarFreeAtoZ?
It's the Washington D.C. region's first multi-modal trip planning and comparison tool. Bike to metro to walk on your way to work? Sick of driving your car to work every day? Want to mix it up? CarFreeAtoZ aims to go beyond traditional approaches to trip planning, taking a more holistic view of connectivity and accessibility.
How do I use CarFreeAtoZ?
Visit www.carfreeatoz.com to get started. The first time you visit the site, you'll be asked a couple quick questions about how you currently travel and your home and work locations.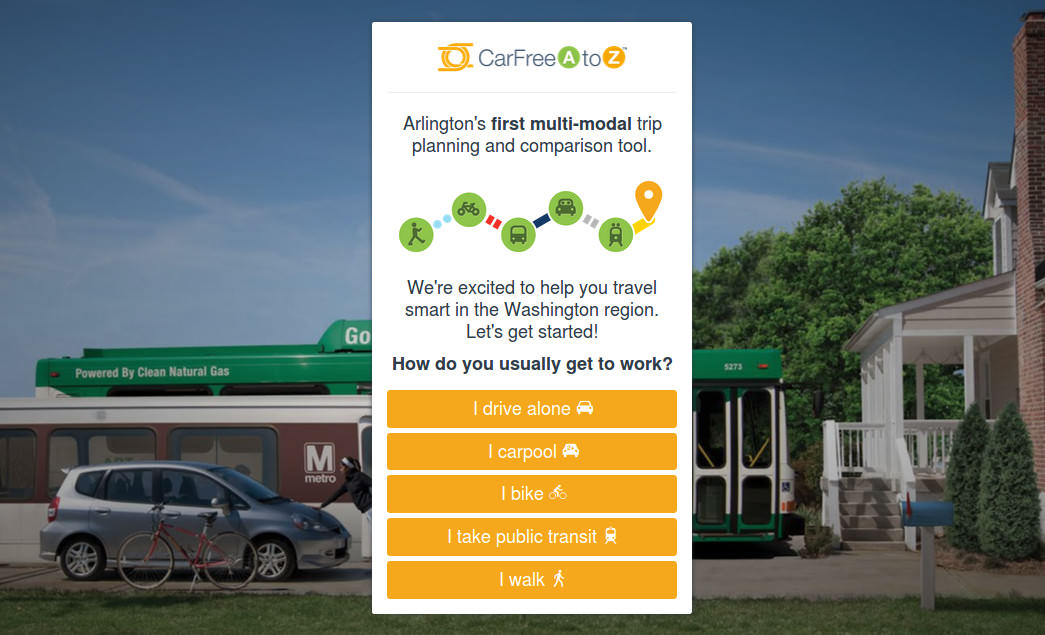 Once you've entered that information, you'll get to explore the various options for your commute. Your results are sorted according to a combination of factors, including total cost, time saved, health benefits, and environmental impact.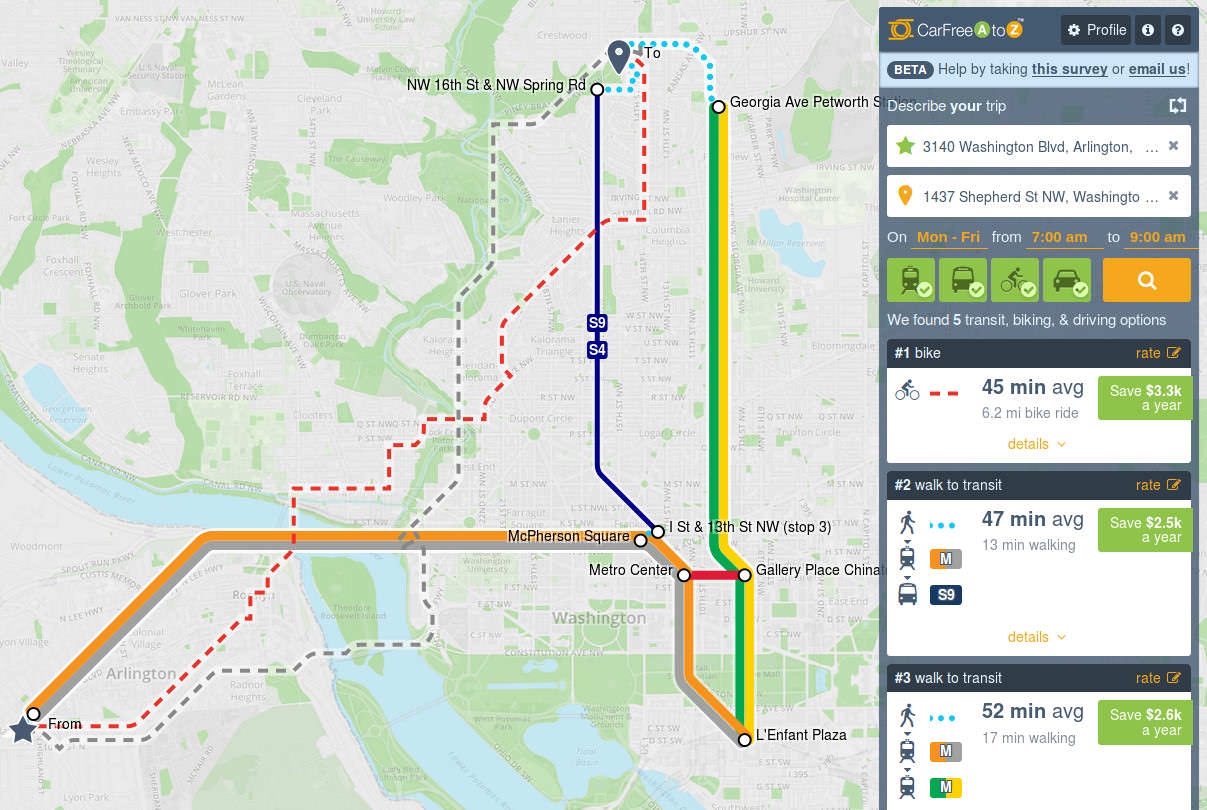 Your daily home-to-work commute is the starting point, but you can explore other trips you make by entering new addresses or dragging the start and end locations on the map. And the "Help" icon offers a more detailed tour of the application.
Why is CarFreeAtoZ needed?
Travelers today have more options than ever for getting around Arlington and greater Washington. CarFreeAtoZ helps people make sense of these choices by providing information in a personalized, easy-to-understand way.
By giving people the information they need to make smarter choices about how they travel, CarFreeAtoZ can help Arlington County achieve a variety of transportation goals, such as reducing traffic congestion and parking demand, promoting the use of transit and carpool infrastructure, and improving air quality and mobility in and around Arlington.
What is covered by CarFreeAtoZ?
The application currently focuses on biking, walking, public transit, and driving – including combinations of multiple modes – in the greater Washington area. CarFreeAtoZ currently includes transit schedule data for ART, DASH, DC Circulator, Fairfax Connector, MARC, MTA, PRTC, Ride-On, VRE, and WMATA.
Who's Behind CarFreeAtoZ?
CarFreeAtoZ is a project of Arlington County Commuter Services (ACCS), and is being developed as part of ACCS' Transit Tech Initiative. Conveyal is leading the software development work, which is being built entirely with open transportation technology, including OpenTripPlanner, a multimodal routing engine; OpenStreetMap, the collaboratively edited map of the world; and the GTFS transit data feeds provided by local transit agencies.
What's next for CarFreeAtoZ?
It is important that CarFreeAtoZ covers as many travel options as possible. CarFreeAtoZ will be linked with regional ridesharing databases to provide personalized information on available carpool, vanpool, and slugging opportunities. Other travel options like Capital Bikeshare will be added, and part of the project's scope is to help all of the major public transit services in the Washington region to get their transit data opened for easier access to public transportation for all.
Going forward, CarFreeAtoZ will also serve as an important part of Arlington's transportation demand management strategy. Working with local workplaces, CarFreeAtoZ will be deployed on a site-specific basis to help both employers and commuters make better-informed transportation decisions.